The Coolest Pit in the World
Motto: Graingerus Mortus, ¡viva la revolución!
(Death to Grainger, long live the revolution!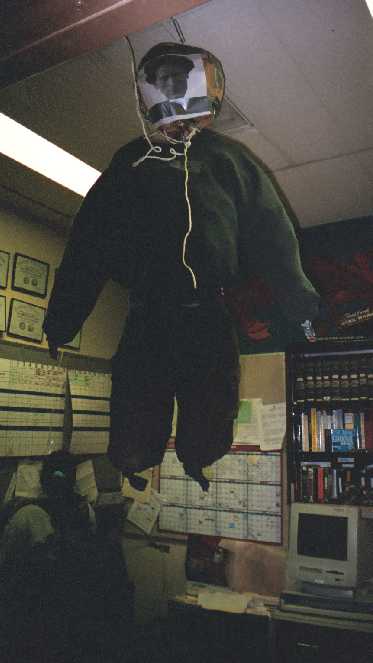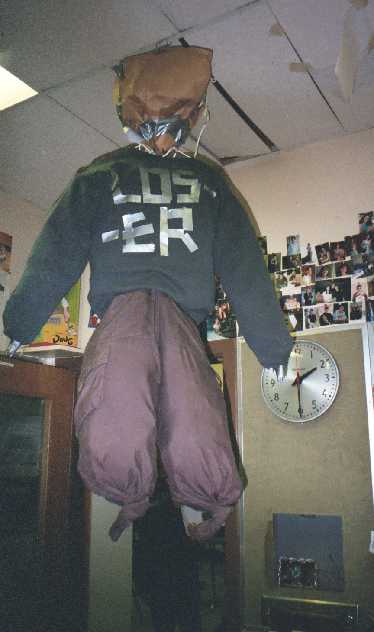 Minutes from the february 20 meeting:
played stuff
ate stuff
couldn't see anything
started rebel communist government
burned stuff
practiced for the solo festival, got cut off
Los minutos del 21 de febrero...
¿No hables español?
comamos más
tocamos más
jugamos videojuegos en la computadora
y ahora en inglés...
TJ is psychic. He can tell the future.
Beckett will one day be famous for having a name that sounds like bucket.
TJ predicts that the apocalypse will occur at exactly beer o'clock, friday. February 21st.
Becket predicts that TJ will make more predictions. He will also woo and enter into a nuptual agreement with a goat, an ungulate of medium size that smells funny.
TJ is abnormally bright for his age, though he has a small pencil. He also likes to eat tin cans, but this is possibly because of all the goats he marries. All my sources point toward yes.
Minutes from the february 24 meeting:
played like normal
ate like normal
Ben wrote essays instead
Bryan went to lessons for a while, then came back
read magazines
played more videogames
February 25 minutes:
went on strike, played nothing
demanded wages
joined liberalist pit party
threw a pit party/orgy. paul brought crackers.
came back in after 30 measure rest, cancelled union
February 26 minutes:
godzilla got tired of eating las vegas
ate pit
trombone players too burly to digest
regurgitated trumpi - something about not showering
Note: Aftewards, godzilla went off and ate the choir too. and their cookies. Having no choir to join and no cookies to filch, BenPaul decided to come on Saturday anyway. Hopefully, there will be food. If not, they'll be hitch-hiking home.
grant intended for tearing out risers used to rebuild pit
And the people did rejoice, and they feasted upon orangutans and fruit bats and breakfast cereals. And the angels did sing, for they cared not-eth. exunt.
February 27 minutes:
trumpi off having orgy.
didn't invite the rest of us.
trumpi voted off the pit.
threw another pit party/orgy. bryan brought crackers.
no time left for Fiddler rehearsal, maybe tomorrow.
voted to have a hoe-down instead of rehearsal tomorrow. much rejoicing.
It is now my intention to play video games for several hours.


An Interview with an Anonymous Victim:
Q: Can you basically outline what happened, please?
A: I was driving. Mrs. Ross cut me off, then proceeded to honk, gave me dirty looks and, uh, gave me the bird.
Q: That sounds traumatizing. How did you feel after that?
A: I was a little bit shocked, a little surprised.
Q: I see. And were any of these vulgar actions any fault of your own?
A: Hard to say, probably not though. I was pretty much minding my own business.
Q: Have you ever had Mrs. Ross for a teacher?
A: yes...one and a half.
Q: Was that a pleasant experience?
A: Besides the failing part, yeah.
Q: Did she ever flip you off in class?
A: no
Q: Too bad. That would've been cool. Any further comments?
A: That's pretty much the whole story. I'm basically just a law-abiding citizen.
Q: well, that's all the time we have. Thanks for sharing your tragic story.
The rules...
we rule.
BUNDY IS OLD.*
do you love me?<3

A portrait of paul

         /-/-/-/-/-/-/-//
         ||////////////|
         ||  //       |
         ||/ //     __|
         |||@//   /_*|
         ||\          .\
         \|           |
           \|        <
           __\___---/_
         __\_________/ 
         /           |
         |           |
         |           |
         |   |       |
         |   |       |
         \   |\      |
          \    \______
           \         _|  <-- hand badly mangled in train accident.
            \________/ 

drawn by ben

Strip your self
--sign on the wall


On March 15, 2003, some 20 pit musicians met a gruesome fate as they died of boredom.
---
Added post-last show:
Ben's Handy Guide to Hebrew Phrases.
Gentile
"Player hater"
Mazel Tov
"word to your mother."
L'Chaim
"open bar"